S obzirom da sam se u roku od 2 nedelje farbala 3 puta, sada moram jako da negujem kosu i ne smem da koristim presu, figaro i ostale vruće sprave, onda praktikujem da dobro napakujem kosu, stavim sve moguće preparate, samo je osušim i skupim je. Ili napravim neku frizuru koja ne oduzima mnogo vremena i živaca. 🙂 Tutorijal za ovu frizuru koja se skroz lako pravi i jako lepo izgleda možete pogledati upravo ovde: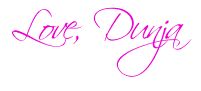 S obzirom da je post 'everyday beauty routine' (
ovde
) imao daleko najviše pregleda prošlog meseca, rešila sam da uradim nešto slično tome, pošto vam se takvi postovi izgleda baš svidjaju. Tako da ovaj post posvećujem kosi i njenoj nezi. S obzirom da mi je kosa prirodno tršava, suva i farbana hiljadu puta, moram da vodim računa o njoj. Nemam neku stalnu rutinu, jednostavno se uvek trudim da isprobavam nove proizvode. Tako da ću danas sa vama podeliti svoju trenutnu rutinu za negu kose. Bacamo se na posao. 🙂
Hey guys…Since my last month post about my everyday beauty routine (here) was the most viewed post of November, I've decided to do something similar to that, since it's obvious that my readers like that kind of posts. So, this post will be about my hair care routine. Since my hair is curly, very dry and dyed too many times, I have to take good care of it. My routine changes a lot, and I'm always trying out new products. Let's get straight to it. I hope you'll like it.
Što se tiče ŠAMPONA ZA KOSU, nikada ne kupujem isti. Probala sam sve i svašta. Od različitih brendova preko koprive, i ručno pravljenog šampona, onog sa AD kapima (koji verovatno samo meni nije uspeo…posle par godina sam shvatila i zašto – zato što nisam skontala da u taj mix treba da se doda i šampon, tako da možete zamisliti na šta je to ličilo). Već godinama unazad koristim Elseve od L'Oreala, medjutim nemam omiljenu vrstu, nego uvek kupim neki novi koji izadje, ili eventualno crveni – on je za farbanu kosu. Trenutno koristim Total Repair Extreme.
Talking about HAIR SHAMPOOS, I have this routine to always change shampoos. I tried a lot of things. From different brands, to natural shampoos, and the ones that you mix by yourself (mine was horrible, so I prefer to stick to the ones that are already made). I have been using Elseve by L'Oreal for years now. But I don't have favorite kind, I always buy a different one, usually the one that I see on commercials. If not, I stick to the red one, which is for dyed hair. Right now I'm using Total Repair Extreme.
PAKOVANJA. Ovo je nešto o čemu posebno vodim računa, jer smatram da svaki šampon može da opere kosu, ali pakovanje je ono što je zapravo neguje. Neka pakovanja ne valja koristiti svako pranje jer vam zasite kosu, tako da to morate proveriti za pakovanje koje koristite. Ja se trudim se da držim pakovanje na kosi bar pola sata i ako za to imam vremena, onda kad ga stavim na kosu, rasčešljam je, zavijem u foliju i držim peškir ili kapu na glavi, jer se sva pakovanja uglavnom aktiviraju na toplotu. Trenutno koristim dva. Prvi je Silicon Mix Hair Treatment, koji je kombinacija silikona, keratina i ceramida. Proizvodi se u Dominikanskoj Republici i odande sam ga naručila, isporučuju širom celog sveta. Ako želite, mogu da vam ostavim link gde možete da ga kupite. Koštao je oko 19$, ali je težak preko 1kg. Ja ga koristim od juna i nisam potrošila ni blizu polovine. Ja sam iskreno oduševljena ovim pakovanjem. Prvi put sam čula o njemu od blogerke Camile Coelho i sve što je ona rekla se zaista ispostavilo kao tačno. Od kada sam počela da ga koristim imam novu kosu svuda po glavi, nikada mi toliko nije rasla. Fenomenalan proizvod. Drugi porizvod je Collistarova maska za kosu. Ova maska čini kosu prelepom na dodir, bude skroz mekana i izgleda zdravo. Takodje, odličan proizvod.
HAIR TREATMENTS. I think that they are so important. You can wash your hair with any shampoo, but hair treatments are the ones that are keeping your hair healthy and good looking. Not every treatment is supposed to be used every time you wash your hair, so you gotta check that for the one that you use. I'm trying to hold it on my hair at least half an hour, I put a foil on it and towel or a cap on top,cause warmness is what's activating the product. Currently I'm using two products.
The first product is Silicon Mix Hair Treatment, combination of silicon, queratin and ceramid. It is from Dominican Republic, it was about 19$ (36oz) and they ship world wide. I first heard about it from blogger Camila Coelho and everything she said about it turned to be truth. This product is amazing. My hair is growing so fast, I have new hair all over my head, it is fantastic!!!
The other product that I'm using right now is Collistar hair mask. It doesn't help growing your hair, but it makes your hair so soft and looking healthy. Awesome product too!
ARGANOVO ULJE je najnoviji proizvod koji koristim. Koristila sam ga svega par puta, ali sam oduševljena efektom. Služi za definiciju kose, zaštitu od toplote, regeneriše i hrani kosu. Koristi se za sve tipove kose. I na sve to, predivno miriši. Ukoliko ne koristim ovo, onda stavim HEAT PROTECTOR, koji štiti vašu kosu od toplote (fena, prese, figara itd). Ovaj koji trenutno koristim je Hi-T Security od Alter Ega.
ARGAN OIL is the newest addition to my hair routine. I used it just a couple times, but I'm already loving it and I really recommend it to everybody. It defines your hair, protects from heat, regenerates and nourishes your hair. It's good for all types of hair. And on top of all, it smells SO good. If I don't use that, I have to use HEAT PROTECTOR, which protects your hair from heat. This one that I'm currently using is Hi-T Security by Alter Ego.
Kada sve to stavim na kosu, ukoliko imam vremena pustim je da se sama osuši, pa je posle samo rasčešljam i vežem u rep. Ako nemam vremena, osušim je. Trudim se da se uvek feniram kod frizera jer tako je manje oštećujem, ali kad nisam u mogućnosti, koristim presu. Nažalost. Ovu presu imam tek par meseci, ali već sam oštetila kosu sa njom, tako da je od sad pa na dalje, neću koristiti. Majke mi. 🙂 To je smrt za kosu.
After I put all of that, and if I have time, I let it air dry, then I just comb it and make a pony tail. If not, I blow dry it. I always try not to straight my hair by myself, but if I can't go to hairdresser, I use a flat iron. Unfortunately. I have this flat iron for couple months, but I've already damaged it so much. So from now on, I'm not gonna use it. I swear. So bad.
Poslednji proizvod je SUVI ŠAMPON. Imam ga već neko vreme, ali ga retko koristim. Nemam toliko masnu kosu, da bih morala da ga koristim redovno, a i mislim da je čista kosa čista kosa i da to ništa ne može zameniti. Verovatno da dosta pomaže ljudima koji imaju jako masnu kosu, ja nemam taj problem, pa iz tog razloga nisam luda za ovim proizvodom. Ovaj koji ja imam je Clean Remix od Matrixa.
The last product from my routine is INSTANT DRY SHAMPOO. I have it for a while, but I don't use it very often. Probably because my hair is not greasy. And I also think that clean hair is clean hair and nothing can replace that. It probably helps people with greasy hair, I don't have that problem, so that's the only reason that I'm not crazy about this product. This one that I have is Clean Remix by Matrix.